MILITARY
Impact of eFAST Training Among Ultrasound-Naive U.S. Military Medics
Read on how, as ultrasound becomes more ubiquitous with technology, online training platforms are capable of training medics to perform eFAST exams.
---
Abstract
The miniaturization and portability of ultrasound devices within the past decade is of special importance to U.S. Army Combat medics who have been historically constrained by the cumbersome size of ultrasound machines and the nature of their work on the battlefield. Given the increased access and usability that ultrasound training now offers to Army medics working within the field, many will need to undergo formal training to learn POCUS skills.
The current study utilized a cohort of 34 ultrasound-naive military medics who were randomly assigned to receive a 4-hour introductory eFAST training course either through a traditional, instructor classroom-style approach or through an asynchronous, online training platform known as SonoSim. Prior to the ultrasound instruction, all participants took a 50-question exam to assess their baseline knowledge. Following ultrasound instruction, participants were evaluated using an objective structured clinical exam (OSCE) to measure technical skills in performing a diagnostically accurate eFAST exam. Additionally, they took the same 50-question exam to measure post-course knowledge improvement.
The results of the study indicate the medics improved their eFAST knowledge from a mean of 27% to 83% following ultrasound course instruction. There was no statistical difference in the didactic exam or OSCE scores between the two medic groups, thereby suggesting that an introductory online course is equally as effective at teaching ultrasound as the traditional classroom approach. The results of the study indicate that online training platforms can adequately train military medics to perform an eFAST exam while circumventing traditional barriers to ultrasound education such as time and access to numerous pathological cases.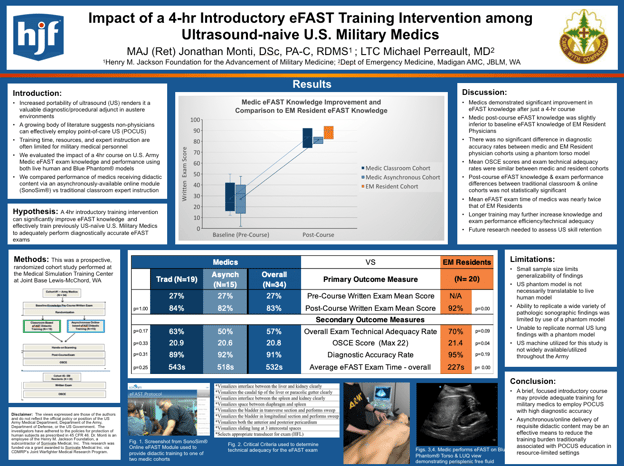 To read the article, visit Military Medicine.