Learn MSK Ultrasound in an Immersive & Risk-Free Environment
Musculoskeletal Ultrasound Training



SonoSim's comprehensive musculoskeletal (MSK) ultrasound training series is designed to help medical education programs and healthcare professionals learn & teach MSK ultrasound. This musculoskeletal ultrasound training curriculum is suitable for learners of all levels of experience.
Novice learners will benefit from the anatomy & physiology MSK ultrasound training content that covers a variety of bony, joint, and soft-tissue anatomy and physiology in a head-to-toe manner. And diagnostic medical sonography (DMS) students pursuing an MSK certification and more advanced learners will benefit from in-depth MSK imaging protocol instruction and ultrasound-guided joint aspiration and injection training.
Our curriculum, authored by leading experts in MSK ultrasound, is peer-reviewed and CME-accredited. Every topic in our curriculum includes a course, virtual scanning cases with simulated Doppler imaging, knowledge assessments, scanning assignments, and guided imaging protocols that adhere to professional society guidelines (e.g., AIUM, CAAHEP), and a Mastery Exam. Participants have the opportunity to earn certificates, build their MSK ultrasound image portfolios, and claim CME credits as needed.
SonoSim online MSK ultrasound courses provide the background declarative knowledge required to perform a variety of MSK applications. The SonoSimulator® coupled with procedural assignments helps you develop image acquisition, image interpretation, needle visualization using in- and out-of-plane guidance, and real-time needle guidance.
SonoSim's innovative platform integrates real patient anatomy with hands-on simulation, allowing you to learn using real ultrasound anatomy, including imaging artifacts. Training on appropriately applying Doppler techniques is included.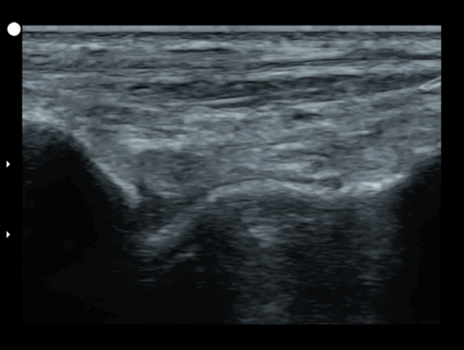 A key feature of SonoSim ultrasound-guided procedure training is integration of expert-system artificial intelligence (AI) that provides immediate feedback on needle trajectory and procedural success. Informative video tutorial Findings videos provide virtual coaching on-demand to assist learning.
Each topic includes a course, scanning cases, knowledge checks and a Mastery Exam. Learners collect certificates, create MSK ultrasound image portfolios and can claim CME* if desired.
POCUS & DMS Protocol Scanning Assignments
Customized scanning assignments are provided based upon whether learners are pursuing diagnostic medical sonography (DMS) or point-of-care ultrasound (POCUS) training.

DMS Protocol Scanning Assignments are available for many topics/protocols.
MSK Ultrasound Training Pathways for DMS & POCUS Learners
Add or Expand Expertise with our MSK Ultrasound Training

Our immersive learning environment supports & accelerates each learner's journey to successfully performing MSK ultrasound across a variety of applications. Learners can successfully work towards acquiring the procedural knowledge and technical skill needed to use ultrasound imagery for diagnostic or image-guidance during procedures. SonoSim helps DMS and POCUS ultrasound learners achieve their training objectives.
With SonoSim Online courses, learners are immersed in multimedia MSK ultrasound training with audio, video, illustrations, and real patient anatomy, taking didactic learning to a whole new level.
The SonoSimulator provides learners with the opportunity to practice scanning real patient anatomy, including MSK pathologies. This hands-on experience allows learners to refine their scanning technique and enhance their ability to recognize and diagnose various conditions, so they can get the most out of clinical practice.

In-Depth MSK Ultrasound Training for Every Learner & Program
Customized Learning Pathways in MSK Ultrasound
for Educators, Healthcare Practitioners & Aspiring Professionals

A Comprehensive Ultrasound Learning & Teaching Ecosystem