Lung Ultrasound Training - Elevating Skills with SonoSim
Interactive Pulmonary Ultrasound Training
Lung Ultrasound Courses & Hands-On Virtual Scanning Practice



Deliver Standardized Education on Pneumothorax, Lung, & Pleural Pathologies
Learn to screen for and assess a variety of lung, pleural, & intra-thoracic pathologies with SonoSim's pulmonary ultrasound training curriculum. Our educational material is created by renowned ultrasound experts and undergoes a stringent peer-review process to ensure its quality and accuracy. The curriculum encompasses comprehensive coursework, hands-on virtual scanning of the lungs, including anatomy, pleural & thoracic pathologies, knowledge assessments to gauge retention, practical scanning assignments, and a comprehensive Mastery Exam. As part of this program, participants can earn certificates, compile a professional portfolio of pulmonary ultrasound images, and claim CME credits, if relevant.
Our pulmonary ultrasound training aligns with numerous consensus-based professional society guidelines, including those outlined by the American College of Emergency Physicians (ACEP) for Thoracic/Airway ultrasound.
SonoSim empowers learners with the essential knowledge and skill set for lung ultrasound, vital for delivering exceptional patient care.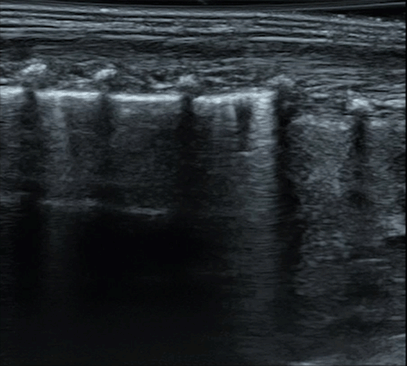 Each topic is meticulously structured to meet the key learning objectives necessary for achieving proficiency in pulmonary ultrasound, including:
POCUS & DMS Protocol Scanning Assignments
Customized scanning assignments are provided based on whether learners are pursuing diagnostic medical sonography (DMS) or point-of-care ultrasound (POCUS) training.

While pulmonary ultrasound is not a DMS requirement, diagnostic medical sonography program educators or DMS practitioners wanting to develop pulmonary ultrasound skills will find these scanning assignments helpful. DMS Protocol Scanning Assignments are available for many other topics.
Comprehensive Pulmonary Ultrasound Education
Enhance Proficiency with Our In-Depth Lung Ultrasound Training

Our immersive learning environment supports and accelerates each learner's journey toward mastering pulmonary ultrasound across various clinical scenarios. Learners can gain the clinical insight and technical proficiency to confidently interpret pulmonary ultrasound images, identify lung, pleural, and intra-thoracic pathologies (e.g. pleural effusions), and make informed patient care decisions.
Lung ultrasound is an operator-dependent technology and individual learners have varied learning styles. SonoSim learners are immersed in proven multimedia ultrasound training that includes: audio, video, illustrations, & pathologic lung case studies, the combination of which takes learning to a whole new level.
With the SonoSimulator, learners have unparalleled opportunities to engage in virtual scanning of real pathologic lung cases via their laptops. Virtual scanning of real patient cases enables learners to develop ultrasound image acquisition & interpretation skills across a diverse set of real pathologic conditions.

Lung Ultrasound Training Tailored to Every Learner and Program
From Learners to Teachers, SonoSim's Ultrasound Plans Tailored to Your Needs

A Comprehensive Ultrasound Learning & Teaching Ecosystem