SonoSim System Requirements
For Uninterrupted Learning
Optimize your ultrasound training experience by ensuring computers used to access SonoSim meet the following minimum technical specifications: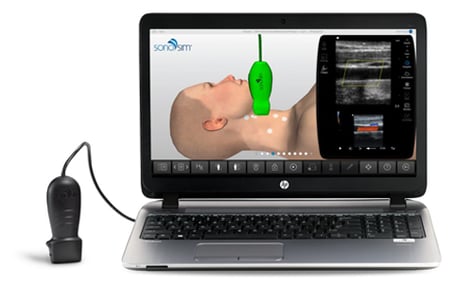 Operating System*

64-bit Windows 10 or newer
macOS 11 or newer (2017 model or newer)

Disk Storage

At least 2 GB free, up to a minimum of 5GB required depending on cases installed

Memory

Minimum 4 GB RAM; Recommended 8 GB RAM

Minimum Screen Resolution

1024x768

Input Ports

One USB port, directly accessible or via USB-C adapter**

Internet Connection

Broadband internet connection is required. Speed Requirements: Minimum 1 MBPS; Recommended 10 MBPS or higher

Internet Browser

The three latest versions of the following browsers are supported: Google Chrome, Mozilla Firefox, Apple Safari, & Microsoft Edge
*Please note that most elements of the SonoSim Ecosystem are available on most internet-connected devices through a web browser, but the SonoSimulator® software is not supported on ChromeBooks, tablets, or mobile devices.

** If you have a laptop with only USB-C ports, a USB-C to USB adapter is required. Please do not attempt to install with any sort of hub adapter, and for Macs we recommend an Apple-manufactured adapter.