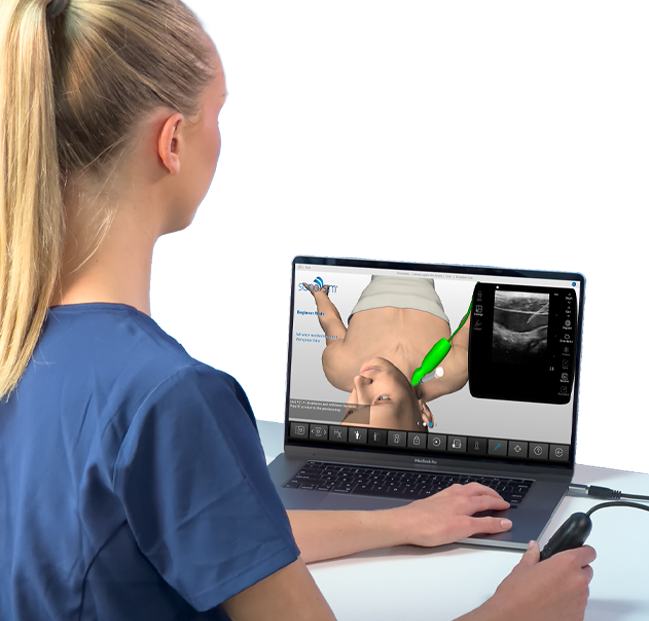 Bedside Ultrasound for Quality Improvement in Healthcare
A Proven Method to Improve

Patient Care &

Satisfaction, While Maximizing Efficiency



Whether you are a quality improvement officer charged with improving quality metrics across your institution or a medical group director looking for more ways to elevate the skills of your providers, SonoSim can help. Join over 120,000 members who have trusted SonoSim to help them reach their point-of-care ultrasound (POCUS) training goals! Our comprehensive ultrasound training platform can be accessed across 80+ ultrasound topics and with a total of 275+ CME credit hours.
With content designed to cater to all levels of ultrasound expertise, SonoSim offers POCUS training for every physician & healthcare practitioner regardless of ultrasound experience. Embrace the future of quality measures in healthcare with POCUS. And now this advanced and complex medical training is available on any device & laptop.
Point-of-care ultrasound (POCUS) refers to diagnostic imaging at the bedside with smaller ultrasound machines. POCUS is revolutionizing bedside clinical care and improving procedural efficacy (e.g., peripheral intravenous (IV) catheter placement), decreasing complications, and limiting patient pain and suffering where it is in use. And unlike many other imaging technologies, ultrasound is saving hundreds of millions of dollars on an annual basis across healthcare systems. Its use supports the Centers for Medicare & Medicaid Services (CMS) goals for value-based purchasing and will provide long-term savings by improving patient health and reducing complications. From screening in the ER & ICU safety, clinic-based diagnosis, and triage to more expensive and time-consuming imaging methods - ultrasound is a game-changer for hospitals, medical groups & providers. Ultrasound machine size & cost have dramatically been reduced. All you need are more trained practitioners. With SonoSim's turn-key platform for ultrasound learning, you can efficiently implement a large-scale training program for all your organization's practitioners.
Bedside Ultrasound Supports Healthcare Quality Measures



Getting Enough Practitioners Competent with POCUS Can Really Move the Needle
Enhance Diagnostic Accuracy
One of the most significant advantages of equipping healthcare practitioners with bedside ultrasound training is the substantial improvement in diagnostic accuracy. Ultrasound, as a non-invasive and safe imaging technique, allows practitioners to visualize internal structures in real time, speeding and increasing the accuracy of the assessment of a patient's condition. Integrating ultrasound training empowers practitioners to perform point-of-care ultrasound (POCUS), resulting in swift and precise diagnoses, which leads to timely interventions and better patient outcomes.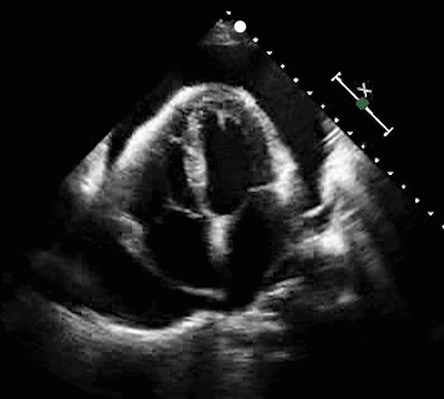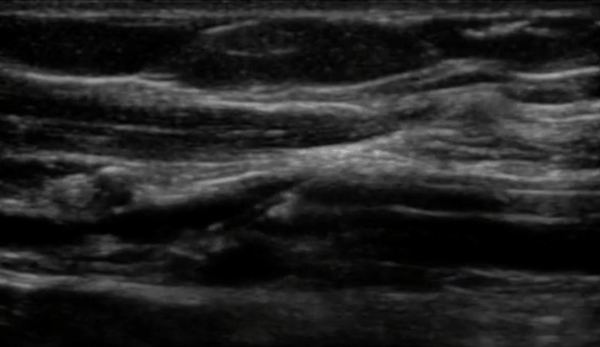 Reduce Complications and Enhance Patient Safety
Patient safety and quality improvement is at the core of every healthcare institution's values. Ultrasound training equips practitioners with the skills to perform various procedures with greater safety and reduced complication rates and has been cited by the Agency for Healthcare Research & Quality (AHRQ) as a method to reduce central venous catheter placement complications. The ability to use ultrasound for guidance during invasive procedures reduces the likelihood of errors and complications, making even complex procedures more manageable and safer for patients. By teaching your practitioners to use ultrasound for needle-based procedures like central line placements, peripheral intravenous (IV) catheter placements, and other interventions (e.g. bladder volume measurement), your hospital or medical group can experience a substantial reduction in adverse events and medical errors, positively impacting quality measures in healthcare.
Facilitate Bedside Diagnostics and Point-of-Care Decisions
Prompt and accurate bedside diagnostics can be a healthcare quality game-changer for both patients and healthcare providers. Integrating ultrasound empowers clinicians to make immediate and informed decisions, avoiding delays in diagnosis and unnecessary patient transfers. This capability is especially crucial in emergency and critical care settings, where quick and accurate assessments can significantly improve patient outcomes and resource utilization.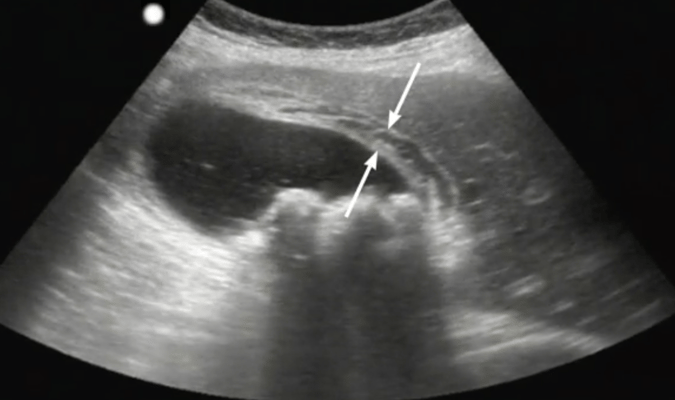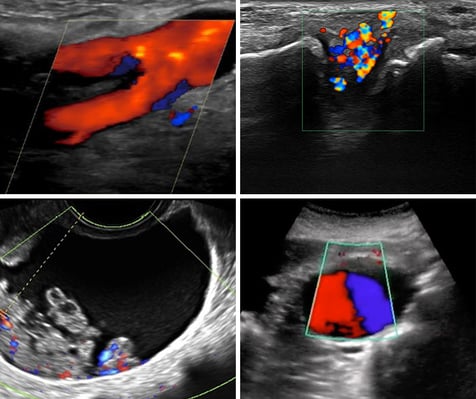 Promote Teamwork & Empower Multi-Disciplinary Collaboration
Patient safety and quality improvement initiatives thrive on teamwork and collaboration. Bedside ultrasound fosters interdisciplinary collaboration by providing a common language for practitioners from various specialties. Whether it's an emergency physician, an anesthesiologist, or a surgeon, with training that delivers proficiency in ultrasound, seamless, timely communication, and data-sharing results, leading to comprehensive patient care plans that encompass insights from all relevant specialties.
Improve Patient Outcomes & Satisfaction While Maximizing Operational Efficiency
In support of the Center for Medicare & Medicaid Services (CMS) goals for value-based purchasing, using portable ultrasound devices for diagnosis and procedure guidance, at a patient's bedside, benefits both patients and medical facilities. Investing in ultrasound training offers a substantial return on investment through cost-effectiveness and improved efficiency of the entire facility. By reducing the need for expensive imaging tests and minimizing the risks associated with unnecessary procedures, your hospital or medical group can realize substantial cost savings. Additionally, the ability to perform point-of-care ultrasound enables practitioners to make timely decisions, optimizing resource utilization and reducing patient wait times.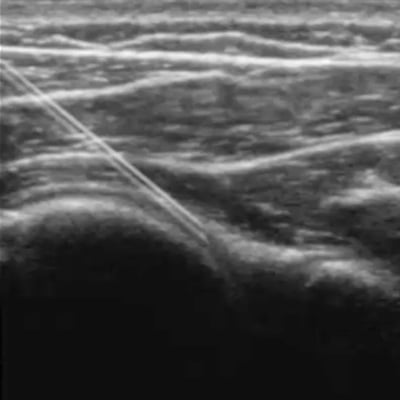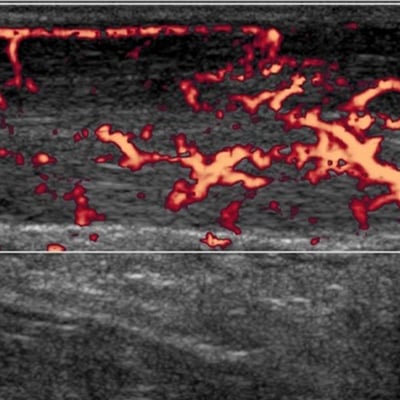 Elevate the Reputation of Your Institution
A medical institution that prioritizes relevant technology and ongoing professional development is perceived as forward-thinking and patient-centric. By investing in ultrasound training, your hospital or medical group demonstrates a commitment to both providing the highest standard of care, and attracting top-tier talent. In so doing medical provider organizations can elevate their reputation in the community. In today's competitive healthcare landscape, standing out is crucial for long-term success. Integrating ultrasound sets your hospital, healthcare facility, or medical group apart from others and positions it as an innovator in patient care and safety. This distinction can attract more patients, referrals, and partnerships, thus bolstering the institution's overall growth and success.
Implementing Organization-Wide Ultrasound Training is Challenging



Common Barriers to Learning Ultrasound
Even once an organization realizes the impact ultrasound can have on quality improvement initiatives in healthcare, it is often a struggle to implement ultrasound training programs internally. Ultrasound learning isn't simple and requires the coordination of several important things.

1. Machines
The machine may not be readily available to the learner at a critical teaching moment.

2. Experts
Getting enough ultrasound experts is often challenging and costly, plus availability at critical moments is near impossible.

3. Pathology
Learners are confined to what patients present with during the hours they have a probe available.

4. Teaching Moments
Clinical bedside scanning often takes place in a chaotic environment. For the patient, pathology, expert, and machine to all line up to create a teaching moment is rare.

5. Repetition
The needed repetition to learn is often not possible.

6. Funding
Adequate funding can be challenging to get.
SonoSim Simplifies Ultrasound Training & Makes Ultrasound Learning Practical
Providing a comprehensive alternative to in-person ultrasound workshops, online ultrasound courses, or ultrasound videos, SonoSim is the easiest way to learn ultrasound. Combining the largest library of accessible scanning cases from real patients, with interactive, ultrasound training courses for physicians & healthcare providers, knowledge checks, a Mastery Exam & and a variety of supportive tools for healthcare providers, SonoSim is unmatched in its ability to support practitioners wanting to embrace ultrasound to improve patient care.
With a wide range of educational & clinical application, SonoSim converts individual practitioners' laptops into personalized ultrasound learning platforms. With interactive courses, advanced simulation technology, and real-life case studies, SonoSim provides an immersive ultrasound learning experience to enhance your existing ultrasound skills, add additional ones, and bolster your diagnostic expertise. From novices to experts, our content empowers healthcare professionals with the knowledge and practical skills necessary for accurate image interpretation, pathology identification, and informed clinical decision-making.
Learn more about how our ecosystem can help your organization transform into one where every practitioner can be trained in ultrasound.
Topics for Every Practitioner, Every Level, Every Specialty



80+ Ultrasound Topics, All Peer-Reviewed, All Eligible for CME**
Below are general overviews of the levels of the various training offered. Click through to review more details on each of the 80+ topics in these categories.
A&P Ultrasound Training

Clinical Ultrasound Training

Adv. Clinical Ultrasound Training

U/S-Guided Procedure Training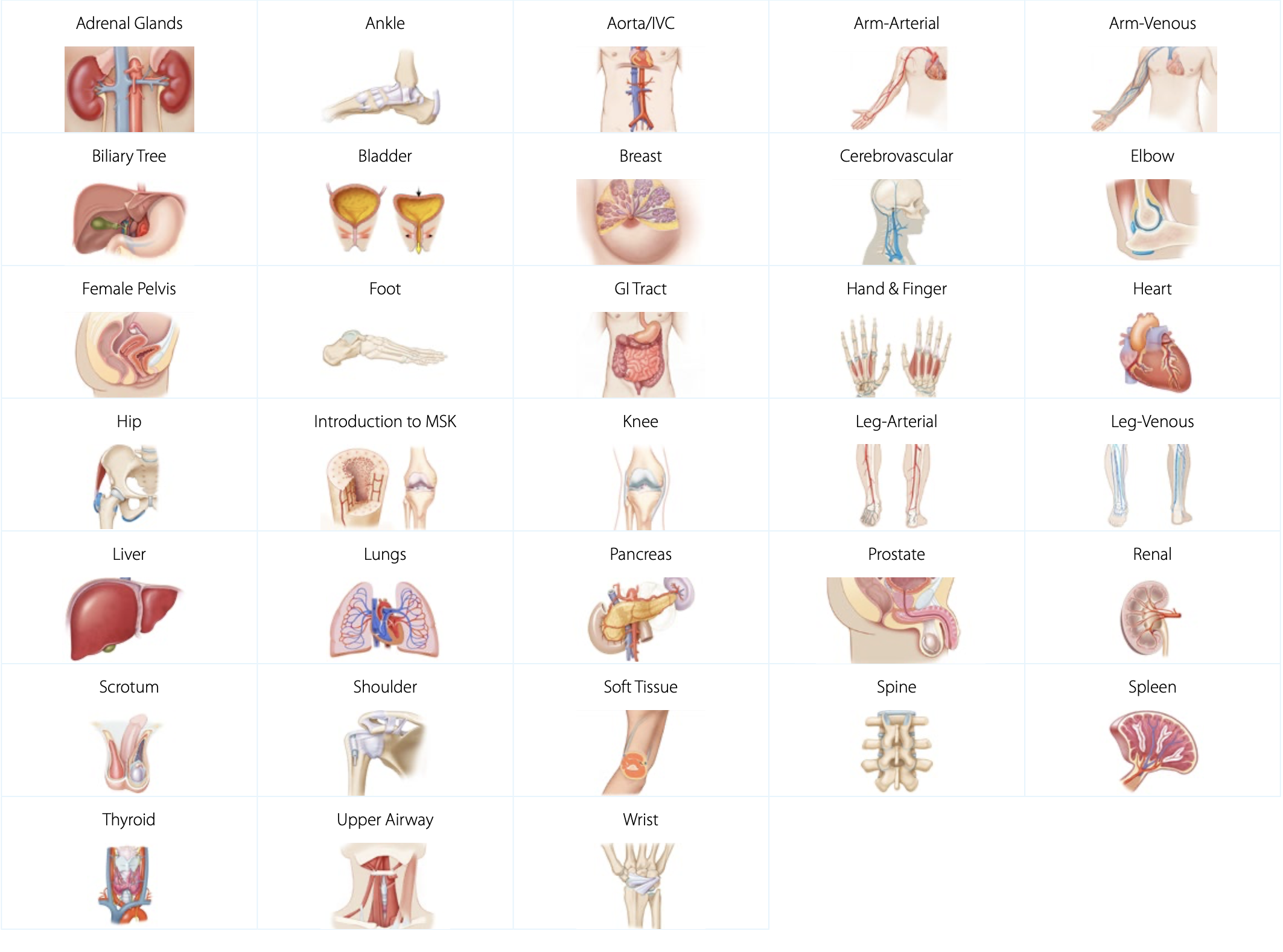 Anatomy & Physiology Ultrasound Training
Our A&P ultrasound training provides a strong foundation of ultrasound knowledge, specific to anatomical regions, organs, and structures. Our expert-led ultrasound training covers everything from regional anatomy & physiology to sonographic anatomy, scanning technique, and imaging tips & pitfalls. Each topic comes with relevant scanning cases from real patients applied to virtual patients, available to scan in the SonoSimulator. Our A&P training comes with normal sonographic cases to set the baseline of normal sonographic anatomy.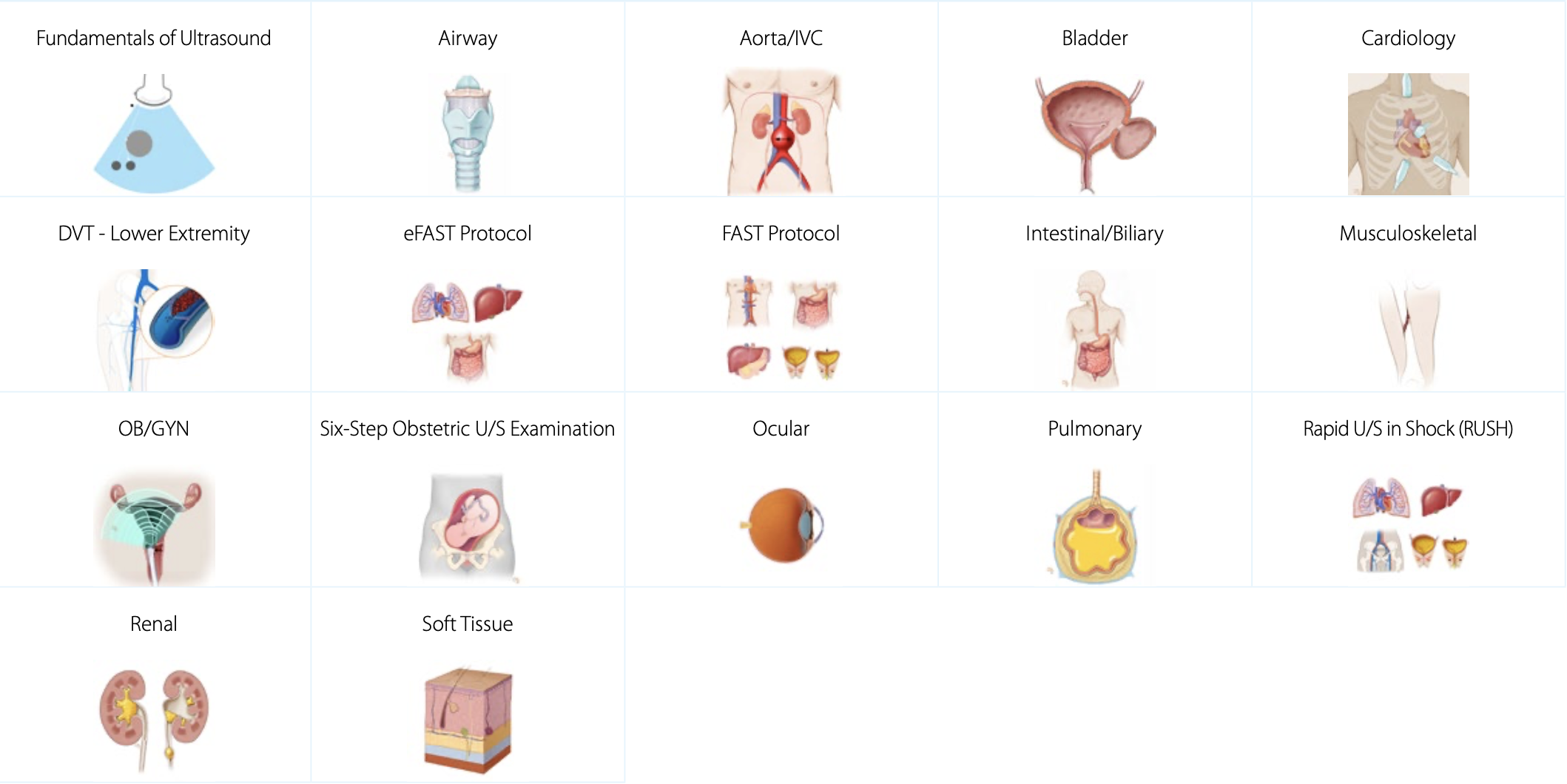 Clinical Ultrasound Training
Our clinical ultrasound training provides the necessary components to accurately assess and diagnose using ultrasound. We cover exam indications, regional anatomy, sonographic anatomy, and sonographic technique. These training topics also focus on pathologic case studies and imaging tips & pitfalls to give you an in-depth understanding of how diseases present in ultrasound imaging. Each topic comes with 10-20 real pathologic scanning cases pertinent to the learning objectives for each topic. Learners can scan these cases in the patented SonoSimulator.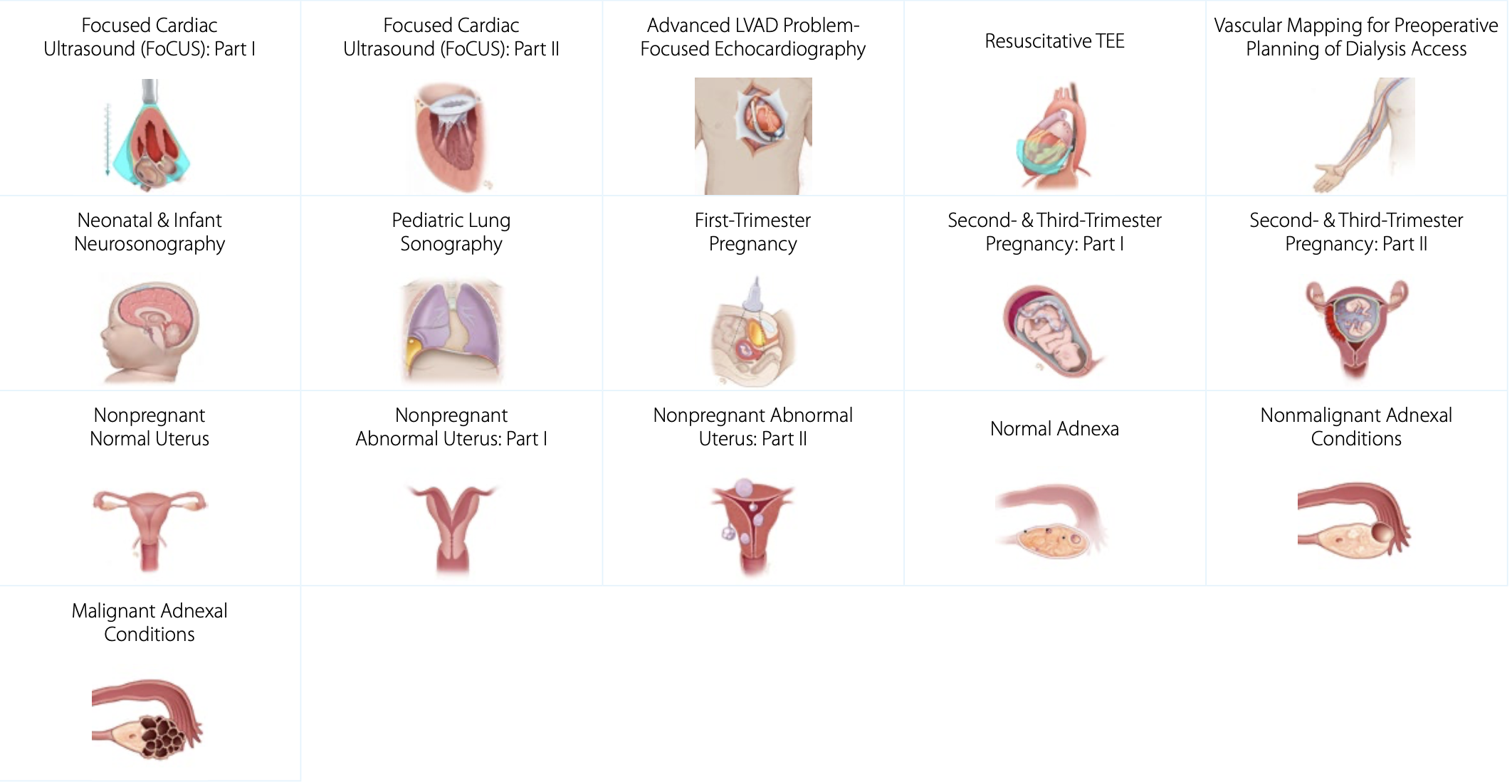 Advanced Clinical Ultrasound Training
Our advanced clinical ultrasound training covers complex diagnoses and sonographic applications. This is an ever-expanding list of topics with a focus on specific pathologic conditions. These advanced clinical and diagnostic ultrasound topics provide learners with a deep understanding of ultrasound techniques for assessing a variety of complex medical conditions. These topics also come with 10-20 real pathologic scanning cases that learners can access and scan with the SonoSimulator.

Ultrasound-Guided Procedure Training
Ultrasound-guided procedures are becoming increasingly used to minimize complications and improve patient care. SonoSim ultrasound procedures training covers patient positioning, procedural steps, imaging adjuncts, potential complications, and more. Learn at your own pace in a risk-free environment. Practice ultrasound-guided procedures as often as you like, risk-free - anytime, anywhere - on any laptop, with the SonoSimulator.


All SonoSim courses are available in English, French, German, Italian, Japanese, Portuguese, & Spanish.

- Bahl A, Pandurangadu AV, Tucker J, Bagan M. (2016). A randomized controlled trial assessing the use of ultrasound for nurse-performed IV placement in difficult access ED patients. Am J Emerg Med. 2016;34(10):1950-1954.
- Baumann BM, McCans K, Stahmer SA, Leonard MB, Shults J, Holmes WC. Caregiver and health care provider satisfaction with volumetric bladder ultrasound. Acad Emerg Med. 2007;14(10):903-907.
- Parry MF, Grant B, Sestovic M. Successful reduction in catheter-associated urinary tract infections: Focus on nurse-directed catheter removal. Am J Infect Control. 2013;41(12):1178-1181.
- Agency for Healthcare Research and Quality (AHRQ). Making health care safer: a critical analysis of patient safety practices. Evidence report/technology assessment, no. 43, 2001.