Using ultrasonography to perform needle procedures has been shown to improve patient outcomes when compared to using anatomical landmarks alone (Denys et al., Iwashima et al., Karakitsos et al.).
SonoSim offers a comprehensive library of modules designed to help physicians improve and refine their ultrasound-guided venous cannulation and centesis techniques, including internal jugular, femoral, subclavian, and peripheral line placement as well as paracentesis, pericardiocentesis, and thoracentesis techniques. Our Procedures Modules will teach learners the requisite psychomotor skills and cognitive task
awareness required to perform ultrasound-guided procedures in a remote, risk-free environment.
Ultrasound-Guided Procedure Training
The SonoSim Ultrasound-Guided Procedure Package offers over 33 hours of online content for practitioners looking to learn how to perform ultrasound-guided procedures.
The package is organized into 8 SonoSim Modules with 80 SonoSimulator® hands-on training cases across a variety of essential medical topics related to performing ultrasound-guided venous cannulations and centesis procedures.
Each SonoSim Module consists of didactic lessons, knowledge assessments, and SonoSimulator hands-on training cases.
Ultrasound-Guided Procedure
Hands-On Training Modules
References
Denys BG, Uretsky BF, Reddy PS. Ultrasound-assisted cannulation of the internal jugular vein. A prospective comparison to the external landmark-guided technique. Circulation. 1993 May;87(5):1557-1562.
Iwashima S, Ishikawa T, Ohzeki T. Ultrasound-guided versus landmark-guided femoral vein access in pediatric cardiac catheterization. Pediatr Cardiol. 2008 Mar;29(2):339-342.
Karakitsos D, Labropoulos N, De Groot E, et al. Real-time ultrasound-guided catheterisation of the internal jugular vein: a prospective comparison with the landmark technique in critical care patients. Crit Care. 2006 Nov;10(6):R162.
Sample Course Outlines
Introduction to Ultrasound-Guided Procedure: Procedure Module
Introduction to Ultrasound-Guided Procedures: Procedure Module
Lesson: Introduction

Disclosure to Learners
Disclaimer
Introduction to Ultrasound-Guided Procedures
Background
Advantages
Literature Review
Indications
Informed Consent

Lesson: Fundamental Requirements

Technical Requirements
Psychomotor Skill Development
Procedural Skill Delay

Lesson: General Considerations

Pre-Procedure Planning
Ergonomic Considerations
Infection Prevention Practices
Low-Level Transducer Disinfection
High-Level Transducer Disinfection
Acoustic Coupling Gel Selection
Sterilization & Infection Prevention

Lesson: Procedure Preparation

Transducer Selection
Transducer Types
Imaging Windows & Optimization
Imaging Recognition & Interpretation
Ultrasound Imaging Planes
Procedure Complexity
In-Plane vs. Out-of-Plane Visualization Techniques
Static vs. Dynamic Image Guidance
Single- vs. Dual-operator Approaches
Needle Selection & Guides

Lesson: Sonographic Technique

Image & Transducer Orientation
Survey Regional Anatomy
Transducer & Instrument Manipulation
Imaging Adjuncts
Image Artifacts
Pearls & Pitfalls

Lesson: Summary
Peripheral Venous Access: Procedure Module
Peripheral Venous Access: Procedures
Lesson: Introduction

Getting Started
Disclosure to Learners
Disclaimer
Background
Advantages
Literature Review
Case Study

Lesson: Regional Anatomy

Venous Gross Anatomy
Upper Extremity Deep Veins
Arm Deep Veins
Forearm Deep Veins
Cephalic Vein
Basilic Vein
Forearm Superficial Veins
Hand Superficial Veins

Lesson: Sonographic Anatomy

Sonographic Venous Anatomy
Venous Valves
Peripheral Vein: Sonographic Characteristics
Venous Flow: Spontaneous
Venous Flow: Respirophasic
Venous Flow: Valsalva Maneuver
Venous Flow: Unidirectional & Augmentable
Sonographic Anatomy: Soft Tissue
Sonographic Anatomy: Soft & Hard Tissue
Sonographic Anatomy: Muscle
Sonographic Anatomy: Tendon
Sonographic Anatomy: Nerves

Lesson: Procedure Preparation

Pre-Procedure Planning
Machine & Body Positioning
Transducer Selection
Perform Survey Scan
Optimize Image
Vessel Assessment: Compressibility
Vessel Assessment: Thrombus Detection
Color & Power Doppler Imaging
Pulsed-Wave Doppler Imaging
Aseptic Technique
Acoustic Coupling Gel Selection
Tourniquet Application
Angiocatheter Selection
Local Anesthesia

Lesson: Sonographic Technique

Confirm Image & Transducer Orientation
Vessel Selection: Mid-Forearm to Mid-Upper Arm
Vessel Localization: Distal Forearm
Transducer Orientation
Imaging Approaches & Visualization Techniques
Short Axis: Out-of-Plane Visualization
Long Axis: In-Plane Visualization
Going From Short to Long Axis After Vein Location
Long Axis: In-Plane Approach
Needle Entry Site Selection
Complications & Management

Lesson: Technical Tips & Pitfalls

Pitfall: Excessive Transducer Pressure
Tip: Center Target Vessel
Pitfall: Venous Tenting
Pitfall: Vessel Backwalling
Tip: Needle Jiggling
Tip: Precise & Patient Needle Manipulation
Tip: Catheter Handling
Tip: Catheter Withdrawal Rescue Technique
Tip: Catheter Withdrawal & Flush Rescue Technique
Tip: Needle Localization
Pitfall: Dislodgement
Tip: Sites to Avoid

Lesson: Summary

Short Axis: Out-of-Plane Visualization
Long Axis: In-Plane Approach
Antecubital & Forearm Veins
Forearm & Hand Veins
Antecubital Fossa Veins
Antecubital Vein Cannulation
Forearm Veins
Forearm Vein Cannulation
Upper Arm Veins
Case Study One
Case Study Two
Conclusions
Ultrasound-Guided Femoral Line Placement: Procedure Module
Ultrasound-Guided Femoral Line Placement: Procedure Module
Lesson: Introduction

Disclosure to Learners
Professional Discretion
Introduction to Ultrasound-Guided Femoral Vein Cannulation
Course Objectives
Literature Review
Indications
Contraindications
Consent

Lesson: Regional Anatomy

Surface Anatomy
Internal Anatomy

Lesson: Sonographic Anatomy

Femoral Triangle: Transverse View
Femoral Triangle: Longitudinal View
Sonographic Characteristics
Spontaneous & Non-Pulsatile Flow
Respirophasic Flow
Unidirectional & Augmentable Flow
Compressibility
Case Study
Image & Probe Orientation

Lesson: Procedure Preparation

General Considerations
Transducer Selections & Machine Settings
Ergonomic Considerations
Patient Positioning
Survey Scan
Infection Prevention Practices
Transducer Covers
Transducer Disinfection & Sterilization

Lesson: Procedure Steps

Confirm Transducer Orientation
Local Anesthetic
Vessel Imaging vs. Needle Guidance
Transverse Approach
Short Axis: Out-of-Plane Guidance
Long Axis: In-Plane Guidance
Transverse vs. Longitudinal
Sonographic Confirmation
Post-Cannulation Confirmation

Lesson: Imaging Adjuncts

Visual & Physical Guides
Doppler-Mode Imaging

Lesson: Technical Tips & Pitfalls

Anatomical Tips
Troubleshooting: Guidewire Rescue
Hypotensive Patient Pitfalls

Lesson: Complications

Complications of Femoral Line Placement
Infectious Complications

Lesson: Summary
Ultrasound-Guided Internal Jugular Vein Cannulation: Procedure Module
Ultrasound-Guided Internal Jugular Vein Cannulation: Procedure Module
Lesson: Introduction

Introduction to Ultrasound-Guided Internal Jugular Vein Cannulation
Course Overview
Indications & Site Selection
Literature Review
Contraindications
Informed Consent

Lesson: Regional Anatomy

Surface Anatomy
Internal Anatomy
Anatomic Variation

Lesson: Sonographic Anatomy

Sonographic Characteristics
Dynamic Changes
Image & Probe Orientation

Lesson: Procedure Preparation

General Considerations
Transducer Selection & Settings
Ergonomic Considerations
Patient Positioning
Survey Scan
Infection Prevention Practices
Sterile Covers & Transducer Disinfection

Lesson: Procedure Steps

Confirm Transducer Orientation
Imaging Approaches
Imaging Approaches & Needle Visualization Techniques
Local Anesthetic
Transverse Approach
Transverse Approach: Out-of-Plane Needle Guidance
Longitudinal Approach
Longitudinal Approach: Vessel Identification & In-Plane Needle Guidance
Longitudinal Approach: Cannulating & Threading the Guidewire
Case Study: Internal Jugular Vein Cannulation
Confirmation Steps

Lesson: Imaging Adjuncts

Visual & Physical Guides
Doppler-Mode Imaging
Color-Flow Doppler: Internal Jugular Vein
Pulsed-Wave Doppler: Internal Jugular Vein
Color-Flow Doppler: Common Carotid Artery
Pulsed-Wave Doppler: Common Carotid Artery
Color-Flow Doppler: Internal Carotid Artery
Pulsed-Waved Doppler: Internal Carotid Artery

Lesson: Technical Tips & Pitfalls

Pitfall: Backwalling
Pitfall: Extreme Respirophasic Variation
Pitfall: Excessive Collapsibility
Pitfall: Excessive Movement
Tip: Overcoming Vessel Tenting
Troubleshooting: Catheter Rescue
Troubleshooting: Guidewire Rescue

Lesson: Complications

Central Venous Cannulation Complications
Quality Improvement

Lesson: Summary
Ultrasound-Guided Subclavian Vein Cannulation: Procedure Module
Ultrasound-Guided Subclavian Vein Cannulation: Procedure Module
Lesson: Introduction

Disclosure to Learners
Disclaimer
Introduction to Ultrasound-Guided Subclavian Vein Cannulation
Course Objectives
Literature Review
Indications
Contraindications
Informed Consent
Lesson: Regional Anatomy

Surface Anatomy
Internal Anatomy

Lesson: Sonographic Anatomy

Sonographic Imaging Approaches
Axillary & Subclavian Vascular Nomenclature
Infraclavicular Approach: Short-Axis View
Infraclavicular Approach: Long-Axis View
Supraclavicular Approach: Short-Axis View
Supraclavicular Approach: Long-Axis View
Image & Probe Orientation
Transducer Orientation

Lesson: Procedure Preparation

General Considerations
Transducer Selection & Settings
Ergonomic Considerations
Patient Positioning
Selecting an Approach: Supraclavicular vs. Infraclavicular
Survey Scan: Infraclavicular Approach
Survey Scan: Supraclavicular Approach
Infection Prevention Practices
Sterile Covers & Transducer Disinfection

Lesson: Procedure Steps

Confirm Transducer Orientation
Local Anesthetic
Infraclavicular Cannulation
Infraclavicular Approach: Short-Axis View
Infraclavicular Approach: Long-Axis View
Infraclavicular Approach: In-Plane Cannulation
Infraclavicular Approach: Cannulation Confirmation
Supraclavicular Approach: Short-Axis View
Supraclavicular Approach: Long-Axis View
Supraclavicular Approach: In-Plane Cannulation
Post-Cannulation Confirmation

Lesson: Imaging Adjuncts

Visual & Physical Guides
Doppler-Mode Imaging

Lesson: Technical Tips & Pitfalls

Troubleshooting: Guidewire Rescue
Troubleshooting: Catheter Passage
Troubleshooting: Catheter Rescue
Tips: Anatomic Landmarks

Lesson: Complications

Complications: Central Vein Cannulation
Complications: Management

Lesson: Summary
Ultrasound-Guided Paracentesis: Procedure Module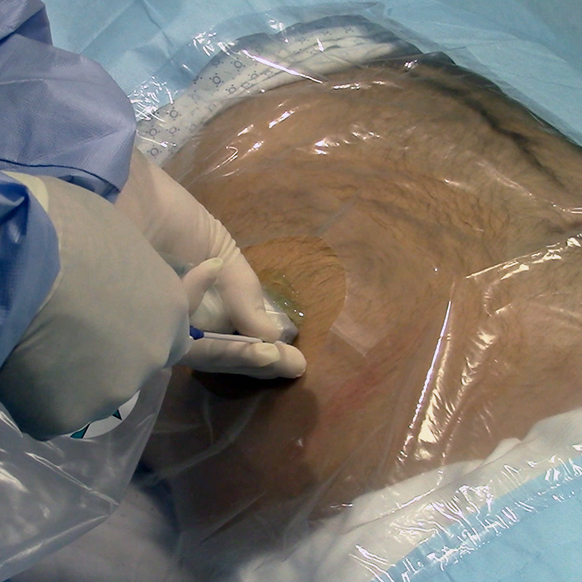 Ultrasound-Guided Paracentesis: Procedure Module
Lesson: Introduction

Disclosure to Learners
Disclaimer
Overview
Detection of Ascites
Ultrasound Guidance Benefits
Literature Review: Traditional vs. Ultrasound-Guided Paracentesis
Indications
Procedural Considerations
Contraindications (Cont.)
Informed Consent

Lesson: Regional Anatomy

Abdominal Wall Layers
Abdominal Wall Vasculature
Peritoneum, Mesentery, & Omentum
Abdominal Organs

Lesson: Sonographic Anatomy

Solid & Hollow Viscus Organs
Intestinal Wall
Ascites
Abdominal Wall & Vasculature
Case Study: Large-Volume Ascites
Case Study: Moderate-Volume Ascites
Case Study: Small-Volume Ascites

Lesson: Procedure Preparation

General Considerations
Transducer Selection & Machine Settings
Patient Positioning
Machine Orientation
Survey Scan
Paracentesis Sites
Static Image Guidance
Real-Time Image Guidance
Infection Prevention Practices
Transducer Covers & Sterilization

Lesson: Procedure Steps

Confirm Transducer Orientation
Local Anesthetic
Skin Puncture Techniques
Needle Selection
Static Image Guidance
Real-Time Image Guidance
Catheter Removal
Case Study: Real-Time Image Guidance
Case Study: Multiple Prior Abdominal Surgeries

Lesson: Technical Tips & Pitfalls

Tip: Using Static vs. Real-Time Image Guidance
Tip: Troubleshooting Decreased Catheter Output
Tip: Catheter Rescue Technique
Tip: In-Plane, Real-Time Image Guidance During Small-Volume Paracentesis

Lesson: Complications
Lesson: Summary
Ultrasound-Guided Pericardiocentesis: Procedure Module
Ultrasound-Guided Pericardiocentesis: Procedure Module
Lesson: Introduction

Disclosure to Learners
Disclaimer
Introduction to Pericardiocentesis
Overview of Pericardiocentesis
Pitfalls of Empiric & Landmark Techniques
Benefits of Ultrasound Guidance
Success Rate & Potential Complications
Clinical Indications for Emergency Pericardiocentesis
Cardiac Tamponade: Background
Cardiac Tamponade: Clinical Presentation
Cardiac Tamponade: Diagnosis & Intervention
Relative Contraindications
Informed Consent

Lesson: Regional Anatomy

The Heart
Anatomic Relationships
Cardiac Layers
Pericardial Effusion

Lesson: Sonographic Anatomy

Cardiac Anatomy
Pericardial Effusion
Pericardial vs. Pleural Effusion
Pericardial Effusion vs. Pericardial Fat Pad: Background
Pericardial Effusion vs. Pericardial Fat Pad: IVC Inlet View
Echocardiographic Findings Seen With Cardiac Tamponade
Normal Transvalvular Inflow Velocity Respiratory Variation
Transvalvular Inflow Velocity with Tamponade Physiology
Summary: Echocardiographic Findings Supportive of Tamponade Physiology
Case Study: Cardiac Tamponade

Lesson: Procedure Preparation

Procedure Considerations & Supply List
Transducer selection & Machine Settings
Machine Orientation & Patient Positioning
Survey Scan
Infection Prevention Practices
Sterile Covers & Transducer Disinfection

Lesson: Procedure Steps

Confirm Transducer Orientation
Local Anesthesia
Static-Image Guidance vs. Real-Time Image Guidance
Real-Time Image Guidance Techniques & Approaches
Parasternal Approach
Subcostal Approach
Apical Approach
Needle Aspiration vs. Catheter Drainage
Needle Localization
Case Study: PEA Arrest

Lesson: Technical Tips & Pitfalls

Tip: In-Plane Needle Guidance
Tip: Pericardial Effusions Vary In Echogenicity
Pitfall: Blind Pericardiocentesis

Lesson: Complications
Lesson: Summary
Ultrasound-Guided Thoracentesis: Procedure Module
Ultrasound-Guided Thoracentesis: Procedure Module
Lesson: Introduction

Disclosure to Learners
Disclaimer
Introduction to Ultrasound-Guided Thoracentesis
Course Overview
Pleural Effusion
Literature Review
Clinical Indications
Contraindications
Risk of Bleeding Complications
Informed Consent

Lesson: Regional Anatomy

Thorax
Pleural Cavity
Normal Lung Anatomy
Respiratory Dynamics
Dynamic Anatomy

Lesson: Sonographic Anatomy

Sonographic Characteristics
Hemidiaphragms
Pleural Effusion
Case Study: Small Pleural Effusion
Case Study: Moderate Pleural Effusion
Case Study: Large Pleural Effusion
Case Study: Pleural Effusion With Adhesions

Lesson: Procedure Preparation

General Considerations
Static Image Guidance
Real-Time Image Guidance
Imaging Approaches & Needle Visualization Techniques
Transducer Selection
Machine Settings
Machine Orientation & Positioning
Patient Positioning
Survey Scan
Infection Prevention Practices
Transducer Covers
Transducer Disinfection & Sterilization

Lesson: Procedure Steps

Confirm Transducer Orientation
Site Selection
Local Anesthesia
Thoracentesis Needle Selection
Principles of Thoracentesis
Static Image-Guided Thoracentesis
Real-Time Image-Guided Thoracentesis
Case Study: Large-Volume Pleural Effusion
Case Study: Exudative Pleural Effusion
Case Study: Limited Needle Visualization
Case Study: Small-Volume Pleural Effusion
Pleural Effusion Characterization

Lesson: Technical Tips & Pitfalls

Pitfall: Inability to Aspirate Fluid
Pitfall: Inability to Visualize Needle
Technical Tips

Lesson: Complications

Complications of Thoracentesis
Pneumothorax
Unexpandable Lung Pneumothorax
Lung Reexpansion Pulmonary Edema

Lesson: Summary
Learn More About the SonoSim Ultrasound Training Solution
Contact Us