2023
SonoSim May 2023 Release Overview
Introducing the latest from SonoSim: A new Renal Transplant Ultrasound module, 5 new Challenge Cases across specialties, and platform enhancements.
---
At SonoSim, we are committed to providing medical professionals with the most advanced and comprehensive ultrasound training. We are thrilled to announce our latest software release, which includes a brand new module, our first focused on ultrasound's utility in organ transplant procedures, plus five new Challenge Cases, and enhancements to our platform. With these updates, we continue to empower healthcare providers to expand their knowledge and skills in ultrasound imaging.
Renal Transplant Ultrasound: Advanced Clinical Module
Our new module focuses on the principles and techniques of performing renal transplant ultrasound. Designed for intermediate to advanced learners, this comprehensive course covers various aspects of the use of ultrasound in renal transplant, enabling you to confidently assess renal transplant allografts and surrounding structures.
Key features of the Renal Transplant Ultrasound module include:
Renal Transplant Anatomy: Gain a deep understanding of the anatomical considerations specific to renal transplant ultrasound. Explore the unique features and structures involved in renal transplantation.
Sonographic Anatomy: Familiarize yourself with the sonographic appearance of renal transplant allografts and their surrounding structures. Learn to identify key landmarks and interpret ultrasound images effectively.
Sonographic Technique: Master the proper techniques for performing renal transplant ultrasound. Understand the nuances of positioning, probe selection, and image optimization to obtain high-quality scans.
Case Studies: Dive into real-patient case studies that demonstrate the application of renal transplant ultrasound in clinical scenarios. Explore various pathologies, such as elevated resistive indices (RI), subcapsular hematoma, and perinephric fluid collection.
Imaging Tips, Pitfalls, & Complications: Learn valuable tips and techniques for overcoming common challenges and pitfalls encountered during renal transplant ultrasound examinations. Discover strategies for identifying and managing complications effectively.
With the Renal Transplant Ultrasound module and the immersive learning experience provided by the SonoSimulator®, you will acquire the procedural knowledge, cognitive task awareness, and visuospatial skills necessary for successful performance in renal transplant ultrasound procedures.
Case-Based Learning: New Challenge Cases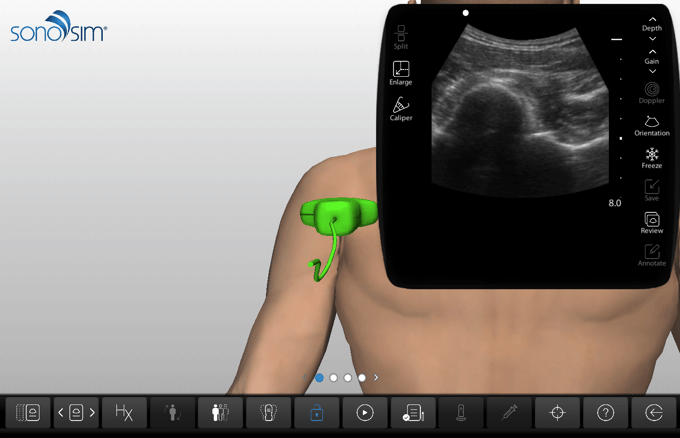 In addition to the Renal Transplant Ultrasound module, we have expanded our case library with new Challenge Cases across multiple specialties. These cases allow you to enhance your skills by practicing with realistic patient scenarios.
MSK Challenge Cases 13-15:
Right Achilles Tendon Tear
Left Posterior Shoulder Dislocation
Left Partial Plantar Fascia Rupture: Plantar Fasciitis
OB Challenge Case 12:
GYN Challenge Case 5:
These cases provide a hands-on learning experience through our SonoSimulator scanning cases. You can navigate through the diagnostic process, make real-time decisions, and receive immediate feedback, all within a safe and simulated environment.
Software Enhancements
We continue to modify our body model draping, in response to SonoSim member feedback regarding modesty. In this release we have increased modesty in lower pelvic draping for lower abdominal scans.
Upgrade to the Latest SonoSim Software Release
As technology evolves, so does our commitment to providing cutting-edge ultrasound training. With our latest software release, you can expand your expertise in renal transplant ultrasound and take on more Challenge Cases across various specialties. Upgrade to the latest SonoSim software release and unlock a world of advanced ultrasound education.
Stay tuned for more updates and enhancements from SonoSim as we continue to revolutionize ultrasound training for medical professionals worldwide.